Howto enter VMware ESXi license key after it has expired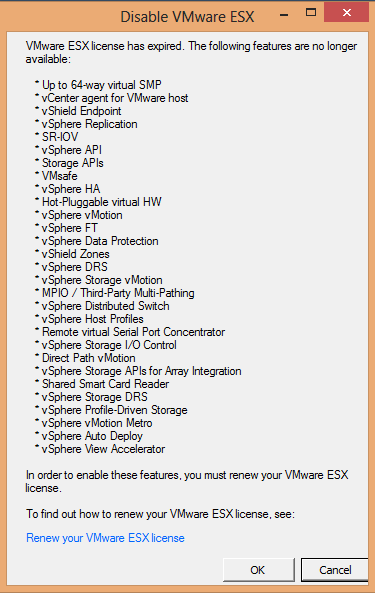 "Disable VMware ESX" is the warning message that is displayed when you open your VMware vSphere Client after the 60-day evaluation period has expired without typing in a new license key for your free VMware vSphere Hypervisor 5 install. You cannot type in the license key in the vSphere Client after the evaluation period has expired. If you do not type in the key before it expires you will not be able to power on VMs after they have been powered down.
This is a short howto describing how you can type in the license key for you free VMware Hypervisor after it has expired, since you cannot use the vSphere Client.
This requires that you have enabled the SSH service on your host before it expired and you can access it using your favourite SSH client to your ESXi host.
The file should look something like this if you have not entered any license information 00000-00000-00000-00000-00000.
This key should be replaced with the key you have gotten from VMware http://www.vmware.com/products/vsphere-hypervisor/ when you downloaded the installer file.
This is a step by step description of how you can update the license file
Start a SSH session to your ESXi host using your favourite SSH client like Putty
Log in with the username root (unless you have changed it to something else)
Open the file /etc/vmware/vmware.lic using the vi editor
~# vi /etc/vmware/vmware.lic

Delete the old license key with the dd command

Insert a new license key by with the i command



The key above is just an example and is not a valid key. Replace the key used above with the evaluation license key you received from VMware.

Save the file using the write command w

Now you can open a new vSphere Client window and see if the license warning windows appears again. If it does not, then you have successfully updated the license key. If not, then you need to check if the license key is typed in correctly.
All this can be done without a reboot of the ESXi host.