This post came to life because I did not manager to get my newly aquired Raspberry Pi 512MB version revision 2 running raspbmc to play my MTS files without freeze/rebuffering. One solution was to overclock the Arm processor to 1000MHz, but then I struggled to find a way to get the CPU temperature down. The other solution was to convert or remux the MTS file to Matroska format using a Ubuntu linux server using the mkvmerge command.
From a console window install the required package to perform the remux operation
$ sudo apt-get install mkvtoolnix
Then I did a quick test to remux the MTS file to MKV
$ mkvmerge -o OutputFile.MKV InputFile.MTS
mkvmerge v6.1.0 ('Old Devil') built on Mar 4 2013 20:24:55
'InputFile.MTS': Using the demultiplexer for the format 'MPEG transport stream'.
'InputFile.MTS' track 0: Using the output module for the format 'AVC/h.264'.
'InputFile.MTS' track 1: Using the output module for the format 'AC3'.
'InputFile.MTS' track 2: Using the output module for the format 'PGS'.
The file 'OutputFile.MKV' has been opened for writing.
'InputFile.MTS' track 0: Extracted the aspect ratio information from the MPEG-4 layer 10 (AVC) video data and set the display dimensions to 1920/1080.
Progress: 100%
The cue entries (the index) are being written...
Muxing took 19 seconds.
This example remuxed a 339MB MTS file to Matroska in 19 seconds and is a quick and easy fix to perform on my video collection.
Muxing a 1.3GB MTS file took 2 minutes 9 seconds. The resulting MKV file is a little bit smaller than the original MTS file.
I have not experienced any playback problems using raspbmc connected to my Sony Bravidia KDL-40EX711 LED TV even though some people complain that older devices cannot play files remuxed using newer version of mkvmerge because of "Header compression" is enabled by default, ref http://www.mediasmartserver.net/2010/08/09/mkv-mania-header-compression-and-the-side-effects/.
Playback of the MKV file is now without any freeze or rebuffering and the Raspberry Pi is now working as a power efficient media PC directly connected to my TV using a HDMI cable and using a external power suppply.
Playback has been tested on Raspbmc running XBMC 12.2 Git:20130502-32b1a5e using "System Performace Profile – Normal" without any advanced overclocking options enabled.
As a note .MTS files are AVCHD coded and can also end with the .M2TS file suffix.
Tags: avchd, howto, m2ts, mkv, mkvmerge, mkvtoolnix, MTS, raspberry pi, raspbmc, remux, Ubuntu, xmbc
Posted by Hans-Henry Jakobsen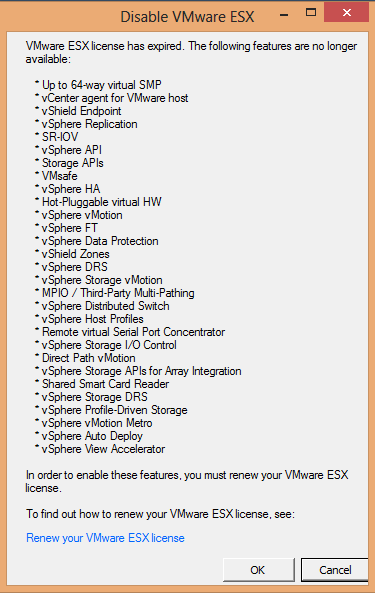 "Disable VMware ESX" is the warning message that is displayed when you open your VMware vSphere Client after the 60-day evaluation period has expired without typing in a new license key for your free VMware vSphere Hypervisor 5 install. You cannot type in the license key in the vSphere Client after the evaluation period has expired. If you do not type in the key before it expires you will not be able to power on VMs after they have been powered down.
This is a short howto describing how you can type in the license key for you free VMware Hypervisor after it has expired, since you cannot use the vSphere Client.
This requires that you have enabled the SSH service on your host before it expired and you can access it using your favourite SSH client to your ESXi host.
The file should look something like this if you have not entered any license information 00000-00000-00000-00000-00000.
This key should be replaced with the key you have gotten from VMware http://www.vmware.com/products/vsphere-hypervisor/ when you downloaded the installer file.
This is a step by step description of how you can update the license file
Start a SSH session to your ESXi host using your favourite SSH client like Putty
Log in with the username root (unless you have changed it to something else)
Open the file /etc/vmware/vmware.lic using the vi editor
~# vi /etc/vmware/vmware.lic

Delete the old license key with the dd command

Insert a new license key by with the i command



The key above is just an example and is not a valid key. Replace the key used above with the evaluation license key you received from VMware.

Save the file using the write command w

Now you can open a new vSphere Client window and see if the license warning windows appears again. If it does not, then you have successfully updated the license key. If not, then you need to check if the license key is typed in correctly.
All this can be done without a reboot of the ESXi host.
Tags: esxi5, howto, license, ssh, vi, VMware, vSphere Client, vsphere hypervisor
Posted by Hans-Henry Jakobsen