Choosing Gnome as default Desktop in Ubuntu 11.04
This post describes how you can change from the Unity Desktop environment that is the default desktop environment to the Gnome Desktop in Ubuntu 11.04 (Natty Narwhal) Beta.
The desktop environment I like to use is the desktop named Ubuntu Classic and you can change to this desktop by going to (or searching for) System Settings -> System-> Admin -> Login.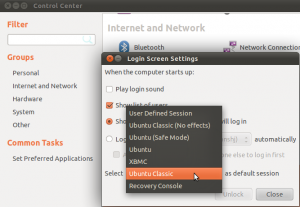 Here you can choose between
Ubuntu Classic (No effects)
Ubuntu (Safe Mode)
Ubuntu
XBMC
Ubuntu Classic
Recovery Console
Log out of the Unity desktop after choosing Ubuntu Classic and pressing the Close button.
You can now choose your desired desktop environment from the bottom of the screen. If you would like to use the Gnome Desktop environment like the one we are used to in Ubuntu 10.10 and earlier, just choose Ubuntu Classic and login again.